Our trip to Alaska is finally over.  And what a trip it was!  On the way there, we spent a month in Oregon, a month in Washington, a week getting to Alaska from Seattle, about 6 weeks in Alaska and about 2 weeks getting home. It was a wonderful trip seeing God's wonderful creation, both in the landscape and the wildlife.
First, some statics.
Miles driven:  15,211
We drove through nine states and 3 Canadian provinces, British Columbia, the Yukon, and Alberta.
Here's our updated map on the trailer.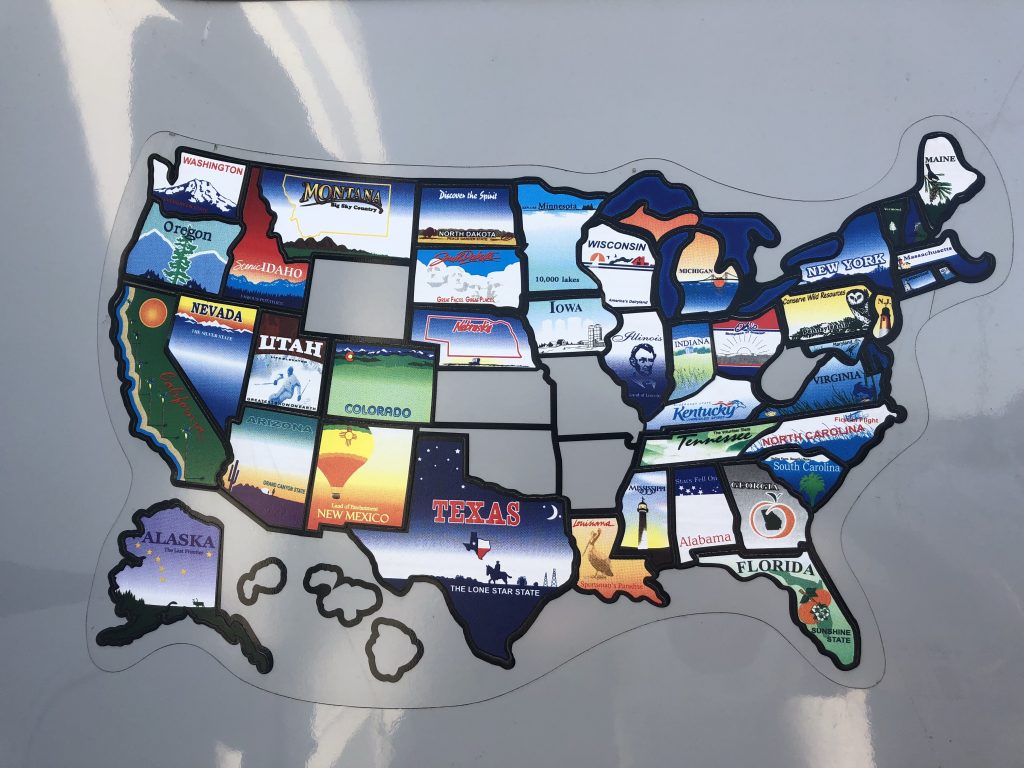 That was a lot of driving!
Gas cost:  $4,700
Camping costs:  $3,200
Repairs:
John had to replace the converter and water pump in the trailer.  I'm so thankful he was able to purchase the parts at rv stores along the way and install them himself.
Purchased one new trailer tire after one of the trailer brakes locked up and ruined the tire.
Purchased one new trailer tire to replace a flat that was not repairable.
One more flat on the trailer just outside of Vegas.  Once again, discovered it in a parking lot so he didn't have to change it alongside the road.  We were feeling lucky so drove home from Vegas with no spare for the trailer.
Considering the length of our trip and the quality of many of the roads that is amazing!
And speaking of the roads….
This is just an example of the many potholes we tried to avoid.  Emphasis on the word "tried".  That pothole is about 18" wide and 2' long and 6" deep.  There were hundreds of them to say nothing of the miles we did on gravel roads. A few times the dust was so thick when someone passed us that we had to stop to let the dust settle so we could see the road.
And there were many rocks thrown our way when other rvs and 18 wheelers passed us.  We have several chips on our windshield.
And then there was this.  Our last day in Canada before crossing back into the US, we were "camped" in an overflow parking lot in Banff.  They provide this lot for overnight camping when the campgrounds are full.  It really is just a parking lot.  We were sitting in the trailer eating dinner and this older gentleman was backing his motor home into the spot next to us.  He missed and hit our car instead. Oops!  And his wife was outside directing him.  Seems like they need some more practice. Turns out all Canadians have auto insurance through their government.  So glad AAA will have to deal with their government and not us!  Of course, when John told the AAA claims gal that it happened in British Columbia she thought we were in Europe.  Guess she failed geography in school.
And speaking of our car.  The previous owner of our car had kept it in perfect condition.  The interior was like brand new.  The exterior was near perfect.  All the maintenance had been done at Lexus of Beverly Hills, including oil changes and detailing.  Who details their car at the dealer?  So here's how you "Kigerize" a car.
Put car seats in it.  Pretty sure this car had never seen a car seat or smashed Pepperidge Farm goldfish.
Drill holes in the console to attach a mount for the iPad to be used for navigation.
Fill the back with lots of stuff, including firewood, fishing poles, bear spray and who knows what else. Pretty sure the only thing he ever had in the back of that car was a bag of groceries from Whole Foods.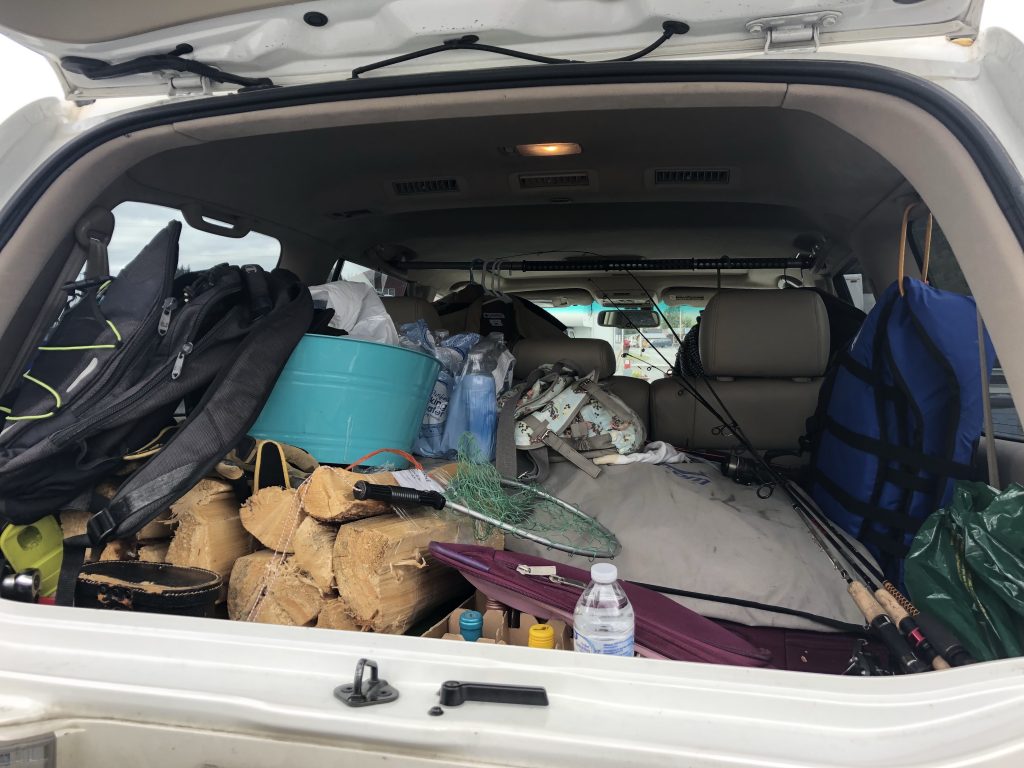 Tow a trailer with it.  A tow package was standard with the car.  The accessories to tow had never been out of the original packaging.
Throw a kayak on top.  Who knows what scratches that left.
Put it in four-wheel drive and drive on dirt roads. No need for four-wheel drive in Beverly Hills.
And this.
And that's how you "Kigerize" a car.
So until we clean it up we won't really know what damage has been done but I'm pretty sure we had a lot more fun in it than he ever did!
So here's a few thoughts on the pros and cons of the trip.  First the pros.
The beauty of Alaska and Canada was amazing.  The glaciers were spectacular and just when you thought you had seen enough of them, the next one would be even more spectacular.
Traveling with good friends.  We normally travel by ourselves but on this trip it was good to be with someone else.  We had some great laughs together and helped each other out when needed.  When you travel miles and miles with no services and no cell service it was comforting to not be by ourselves.
We were blessed with few mechanical problems.
King crab, halibut tacos, halibut burgers, halibut fish and chips, cinammon rolls.
Catching some big fish.
We had fairly decent weather.  Some rain but can't complain about the amount.
Places to camp were very easy to find without reservations in both Alaska and Canada.
Very friendly residents who have to put up with lots of tourist for three months.
We joined a Facebook page called "RVing to Alaska 2018" several months before we left.  We got so much helpful information especially from those who were ahead of us on the journey.  Most of us had a sticker on our vehicles indicating we were a part of the group.  It was fun meeting people that we had interacted with on fb.  Most of us were traveling to the same places but on different schedules.  We would see each other in different campgrounds along the way.  We became known as "The Lances".
A big pro is traveling with John and Mike who are two handy guys.  Mikes nickname is "McGyver" which should tell you something.  I'll call this story "When you don't have lemons, buy some lemons and make leomonade.
When Cindy and I were gone for the wedding, the boys went on a guided fishing trip.  They caught fish so they decided to go back to the place the guide had taken them.  But they didn't have the types of lures that the guide used.  So they went shopping.  Drove to two different towns and couldn't find what they needed.  So they bought some bright colored spongy ear plugs to fashion into lures.  It didn't work.  But John kept the earplugs.  Fast forward weeks later.  In the process of changing one of our flat tires, Johns $20 torque wrench fell apart.  A small spring flew out and we couldn't find it anywhere. Without the spring, the wrench wouldn't work. Weeks later (last night to be exact) we got another flat.  So John fixed the torque wrench by cutting up one of those ear plugs and used it to replace the lost spring.  And it worked!  Mike Belleville better watch out.  There's a new "McGyver" in town.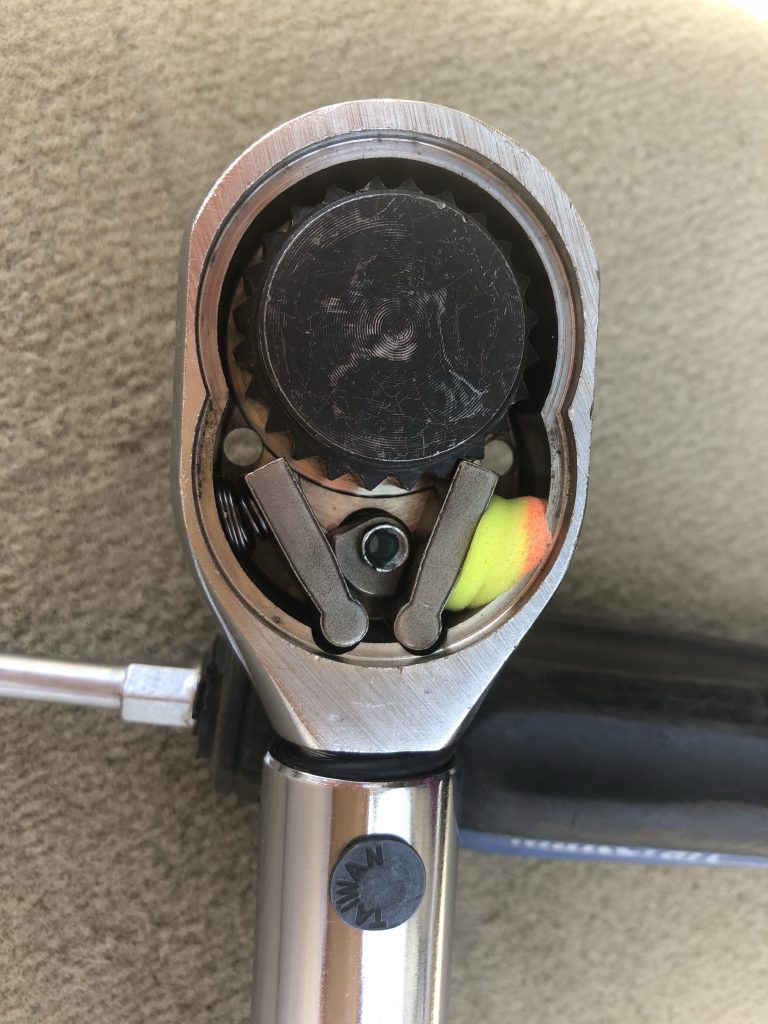 And some cons.
Tour bus crowds in a few places from the cruise ships and rv caravans. Rv caravans are organized by companies and are at least 20 rvs traveling together.
Alaskan fishing regulations.  They change daily.  Yes, daily.  "If you are a non-resident, tomorrow you can fish only within ten feet of the Smith River bridge on the south side of the river but only between 2am and 3:30am.  You can only use a barbless hook with no bait".  Yes, no bait.  And you are responsible for checking online each day to see how the regulations have changed since yesterday.  Of course, you have no cell service to actually check the regulations.
Mosquitos.  Yes, there are a lot of them.
When you are staying in campgrounds, people see your license plate and engage in conversation.  Most of it is good and even informative.  But people from other counties, whether it was Canadians or Europeans seemed to think it was fine to tell us what was wrong with our country, our political process, and, or course, our president.  I wouldnt presume to know enough about your country to tell you what's wrong with it.  Nor would I do it just out of respect for you.
And last but not least, being away from our kids and grandkids for so long.
Lord willing, we will do some more exploring but on much shorter trips.  Except there probably is a road trip in our future to Tennessee.